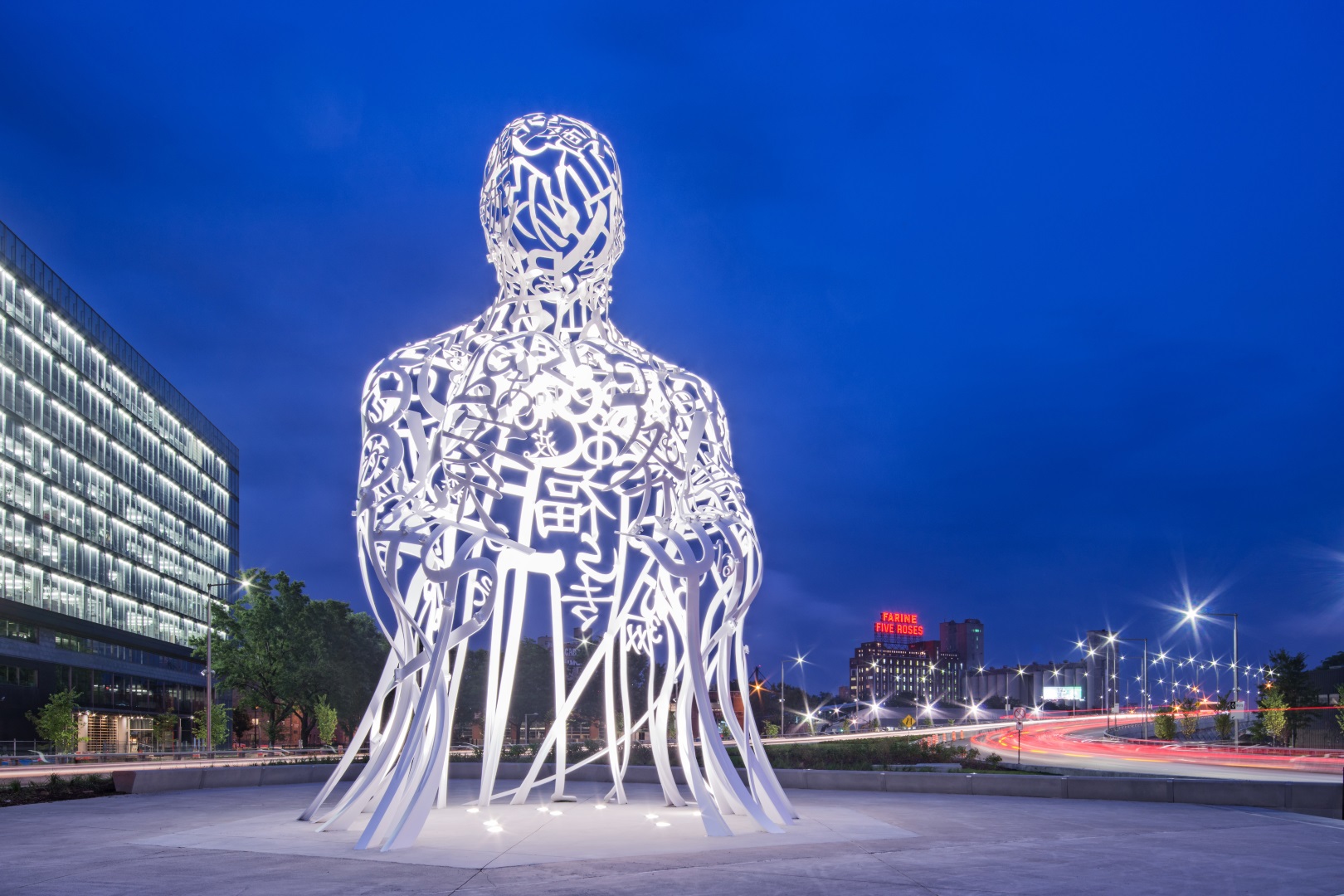 © Jaume Plensa 2016, courtesy of Galery Lelong / avec la gracieuse permission de la Galery Lelong
Crédit photo: David Giral, 2017
Presentation of the artwork
Source is installed at the main entrance to downtown Montréal, in a landscaped terrace at the intersection of Boulevard Robert-Bourassa and Rue Wellington. The stainless-steel sculpture consists of a random intertwining of letters taken from Latin, Greek, Chinese, Arab, Cyrillic, Hindi, Hebrew, and Japanese alphabets, combined to form a monumental figure in a sitting position. The work is an allegory for humanity: like cells are assembled to form the human body, the letters form words, and people form a community. Source represents the wealth of cultures that Montréal has welcomed during its almost four centuries of existence. A symbol of the city's past, present, and future, Source, seen in the light of day or under its night-time lighting, invites residents to walk, dream, and meet.
By creating Source for the 375th anniversary of the foundation of Montréal, the artist wanted to take into account the importance of water in the city's history – for trade, immigration, and communications – but also the importance of the place of Indigenous peoples. Source, a word that is identical in French and English, refers to the birthplace of a watercourse, but also represents the roots of a city's energy and vitality: its inhabitants and their origins, the fluidity and creativity of ideas, and the cycles of movement and renewal.
Associated events
Source was created within the context of the redevelopment project for the south threshold of the Bonaventure expressway, constituting a legacy for the 375th anniversary of the foundation of Montréal. The integration of Source into the Bonaventure legacy was made possible through an exceptional contribution by the Chrétien-Desmarais family.
Born in Barcelona in 1955, Jaume Plensa lives and works in Barcelona and Paris. He studied at La Llotja (college of art and design) and the Royal Catalan Academy of Fine Arts of Saint George. Since 1980, when he had his first exhibition in Barcelona, he has lived and worked in Germany, Belgium, England, France, Japan, the United States, and Spain. He has had major solo shows in museums and sculpture parks. Among others, he was invited to present the work Together at the 56th Venice Biennale, in the nave of the San Giorgio Maggiore basilica. Many of his works are permanent works of public art, of which the best known is The Crown Fountain, installed in Millennium Park in Chicago in 2004.
Awards and honours
The Ten Year Award to The Crown Fountain for Excellence in architecture, AIA Chicago, 2017
Global Fine Arts Awards, Best public outdoor installation, Miami Dade College, Floride, 2015
Prix Velasquez, Espagne, 2013
Prix national des arts plastiques, Espagne, 2012
Premi Gac, Prix de l'Association des Galeries Catalanes, Barcelone, 2011
Marsh Award for Public Sculpture, Londres, 2009
Récipiendaire d'un doctorat honoris causa de l'Art Institute of Chicago, 2005
Prix national des beaux-arts, gouvernement de la Catalogne, 1997
Prix de la Fondation Alexandre Calder, France, 1996
Médaille des chevaliers des Arts et des Lettres, France, 1993